10 Halloween Laser Cutting & Engraving Ideas to Skyrocket Your Sales
Posted by WINNIE LI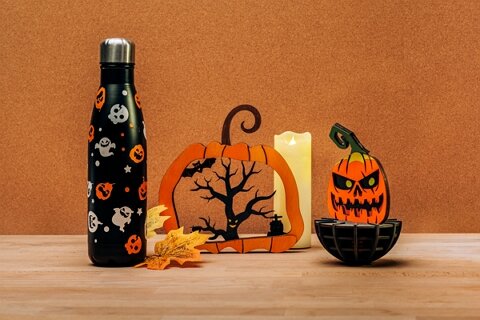 Halloween is near, and if you are thinking about adding Halloween products to your inventory, you are going in the right direction. Using a laser machine, you can make hundreds of items, especially for Halloween, and sell them online and in stores.
Halloween is the right time to get an excellent return on your laser investments. People buy items for the special day with great joy and zeal. Therefore, you can skyrocket your sales through unique and spooky ideas.
In this article, we will share ten amazing and profitable Halloween ideas that you can make with a laser cutting and engraving machine. You can start making these items instantly and fill your inventory so that you can sell them at the right time.
We will guide you on where you can sell Halloween items to grow your business. If you do not have a laser engraving and cutting machine yet, we will also recommend an excellent machine that is ideal for small businesses.
1. Why is Halloween a Perfect Time to Sell Laser Engraving/Cutting Crafts? 
Halloween is a perfect time to sell laser engraving and cutting crafts because of many reasons. 
Firstly, people decorate their houses, shops, and other places with different spooky items to make them as scary as possible. Both the outside and inside of houses and places are filled with scary items, such as lanterns, candles, and wall hangings.
With that being said, people need a lot of things. They find spooky and scary items in online stores and try their best to decorate as well as possible. A laser machine can make excellent decorative items for this special day.
Secondly, people wear special costumes on Halloween, and it is the most important tradition for the day. Along with the costumes, they also wear creepy jewelry, such as earrings, rings, and necklaces. Moreover, men also carry several scary wooden items, including an ax, hammer, and sword. All these things can be made through a laser cutting and engraving machine.
Thirdly, people also like to decorate food. For instance, they use cake and cupcake toppers. One of the most commonly bought items is the Halloween rolling pin for making which is also made using a laser engraving machine.
Last but not least are the gift items. With the help of a laser engraving machine, you can make various customized and spooky gift items, such as Halloween boxes. There are lots of possibilities and ideas that can be implemented using a laser machine.
Halloween comes every year, and people try to do something unique. They try to find unique decorative items, jewelry, and other products that are less common or they have never seen before. These items can be made using a laser engraving and cutting machine, as you can make whatever you want. 
The machine allows you to think out of the box and bring something new to the market. With that being said, you can brainstorm new ideas and do something new. People love to try new things on Halloween, so if your products are good enough, you will definitely get a lot of orders.
2. 10 Profitable Halloween Laser Engraved Products to Sell in 2022
We are going to share some of the most profitable and commonly sold items for Halloween. These items are always in demand, and people usually buy them for the day. If you target these items, you can make a handsome profit.
2.1 Halloween Wooden Sign
Wooden signs or wall hangings are essential for Halloween decorations. People decorate the walls of their houses, shops, or any other places with these. It is a must-buy every Halloween; therefore, it is one of the most profitable items to make. Depending on the size of the sign, you can earn excellent profit.
With a laser machine, you can make wooden signs of multiple layers and then stick all layers together. Finally, you need to paint it to make it spookier and more appealing.
image credit: 3axis.co
2.2 Spooky Halloween Jewelry
Jewelry is the first love of girls and women, even on Halloween day. Spooky jewelry, such as earrings in the shape of a pumpkin, horrifying bat, skull, witch hat, spider, crow, etc., can be worn. Similarly, rings and necklaces can also be made using wood. If your machine can engrave metal, you can engrave anything spooky on a metallic ring. 
image credit: wildnorthdesign.com
It is very simple and easy to make jewelry using a laser machine. You can make a batch of the same design; it increases productivity. There are tons of ideas for making spooky jewelry for the special day; the sky's the limit.
2.3 Banners for Halloween Parties
Banners are also used to decorate homes and the party venue. These are usually made of cardstock paper or similar materials.
These are one of the easiest items to make using a laser. Plus, they are hot-selling items. You can make hundreds of these in different designs and patterns.
2.4 Halloween Embossing Rolling Pin
You cannot forget the Halloween rolling pin because it is used to make special cookies. All you need is a simple rolling pin and then engrave different spooky characters on it. People usually buy a rolling pin for making cookies, but it can also be a gift item and decorative piece.
image credit: OmaMata - Etsy
For this, you need a rotary attachment that will move the rolling pin while engraving. But this is an excellent product that can give you a hefty profit margin. Plus, it is very easy to make if you have a rotary attachment.
2.5 Homemade Candles/Candle Holders
Without candles, Halloween would be incomplete. People light candles in their homes to make the environment spookier. Candles can be made more appealing using candle holders. When you put the candle inside a holder, the shadow of the spooky design looks more attractive.
image credit: LaserBay - Etsy
You can make a wide range of candle holders for Halloween using a laser machine. It is a simple project, and people love to have these on their candles. The holders can be made from wood, acrylic, or cardstock.
2.6 Halloween Cupcake Toppers/Décor
People present cakes on Halloween, and they also decorate them with toppers. Cake toppers are made of acrylic, paper, or wood. Using a laser machine, making cupcake toppers becomes easier.
There are hundreds of designs for cake toppers on Halloween. You can make different types of toppers and pack them in a packet of twelve for this special day. It is a hot selling item.
image credit: cardsnmorestudio - designbundles
2.7 Halloween Light Box
A lightbox is another great idea for Halloween. It looks exceptionally appealing and is one of the attractive décor ideas.
image credit: Starling SVG – Etsy
Making a Halloween lightbox is not that difficult. All you need to do is make four engraved and cut wooden pieces and then join them together to make a rectangle. You can also offer a lamp along with the box; it will be a complete set. People would love to buy this amazing item, and you will be able to make a handsome profit.
2.8 Halloween Wreath
A Halloween wreath can be made through several layers of wood. It can be used as a decorative item for homes. You can also use it as a wall hanging.
image credit: LaserCutano - designbundles
There are dozens of files available for the wreath. You can get some cool designs and engrave and cut them using your laser machine.
2.9 Spooky Charms
People also wear pendants and bracelets on Halloween. Spooky charms are perfect for making Halloween wearable items. These can be paired up with dresses.
Wooden charms can be made from wood. Then, they can be painted for a better look. You can make such charms and attach them to bracelets and chains. It will be an excellent product to sell for Halloween.
2.10 Halloween Miniatures
Halloween miniatures are great for decoration. You can put them on tables, walls, trees, shelves, or wherever you like.
image credit: VectorPainter - designbundles
There can be tons of miniature ideas, such as pumpkins, ghosts, spiders, skeletons, cats, tombstones, eyeballs, and bats. You can be as creative as you like and make unique and spooky items with your laser.
Miniatures will not cost you much, but you can earn a good profit from them. These cut items are the bang for the buck.
3. Where to Sell Your Laser Engraving Ideas?
There are multiple platforms on which you can sell your laser engraving ideas. 
You can contact a nearby store and ask them to keep your products there. In this way, both will be able to make profits quickly. All you need to do is have a contract with a few nearest retailers and stores. Once your products are displayed on the shelves, the sales will start in no time.
Secondly, if you have a social media page (Facebook or Instagram) for the business, you can promote the products through it. If you do not have a page, you can create one now. The quickest way is to start paid promotions and run several campaigns with the help of social media experts. This is another way to start generating sales in less time. If you have a YouTube channel, you can promote your products there and link them back to your website or social media.
You can also sell your products on different marketplaces, such as Etsy, Amazon, and eBay. These are excellent for getting your products to the market without investing too much time and money. 
Your own website is another place to sell products, but to generate a handsome profit, you need visitors. If your website is old and has considerable traffic, you are good to go. But if not, then it is a bit difficult, and it requires a lot of time to set up the website and do SEO.
4. Starting Your Laser Engraving Business with xTool D1 Pro
xTool D1 Pro is a perfect laser machine to start a laser engraving business. It is an ideal machine for this purpose because it is beginner-friendly, extra powerful, speedy, affordable, and, most importantly, upgradeable. You can upgrade it in the future with new accessories and attachments. It means it will never be out of date, and you can make a handsome profit for a long time.
It is a diode laser engraving and cutting machine. It has got three modules. For powerful and quick cutting, you can get the 20W module. It can cut up to 10mm basswood in one pass. It can also engrave a wide range of materials, especially metals, and give them a vivid color after engraving.
The 10W module is suitable for both cutting and engraving. It has a finer laser spot that is better for engraving fine details. It can cut up to 6mm basswood in one pass and has a fine laser spot measuring 0.08 x 0.06mm.
The last module is 5W, which is specially made for fine engraving. It can take fine and tiny details into consideration and gives excellent results. The spot measures only 0.06 x 0.06, which is incredible.
The machine works at an incredible speed and allows you to boost your productivity. It offers incredible motion precision of 0.01mm. It gives you identical results every time with its accurate positioning and repeat positioning.
The robust construction of the machine makes it ideal for small businesses. It has a sturdy metal frame that is durable and makes the machine stable. Plus, the all-steel shafts and wheels give the machine three times longer life and support over 100,000 times of sliding.
The best part is that you can get the rotary attachment that can work and is suitable for all types of cylinders and spheres. The extension kit is also available to double the engraving area and accommodate larger objects. Plus, it has a separate air assist that can ensure cleaner cuts and faster speed.
The machine is perfect for beginners as it has its own beginner-friendly software. The user just needs to connect the machine with the software and is ready to go. It has the friendliest focus system that makes the machine even easier to use. 
The safety features of the D1 Pro are exceptional. The machine stops in the case of tip-over. Plus, it can detect flames to prevent any accidents. Simply put, D1 Pro is an incredible laser machine for a small business, and you can make almost anything for Halloween as well. So, get the machine and make some stunning items that viewers would love to buy.
5. Conclusion
With a laser engraving and cutting machine, the sky's the limit because you make almost anything you like. You can take advantage of Halloween and make some related items that people would like to purchase. We have shared some of the amazing ideas for your ease. You can make these items and then sell them through the methods we have discussed. If you are looking for a laser engraving and cutting machine for your small business, then xTool D1 Pro could be the right choice. It is powerful, packed with tons of features, and affordable. Halloween is an opportunity, and you can make a considerable profit by selling some spooky items.
For more questions, please join our Facebook group to get inspired!
Collection 2019
Sale 70% Off
Title for image